Fans of the mega-popular HBO show and its upcoming final season can now buy official "Game of Thrones" studio tour tickets. Tickets went on sale Monday for a few limited dates after fans raised over $100,000 in support to get it made possible.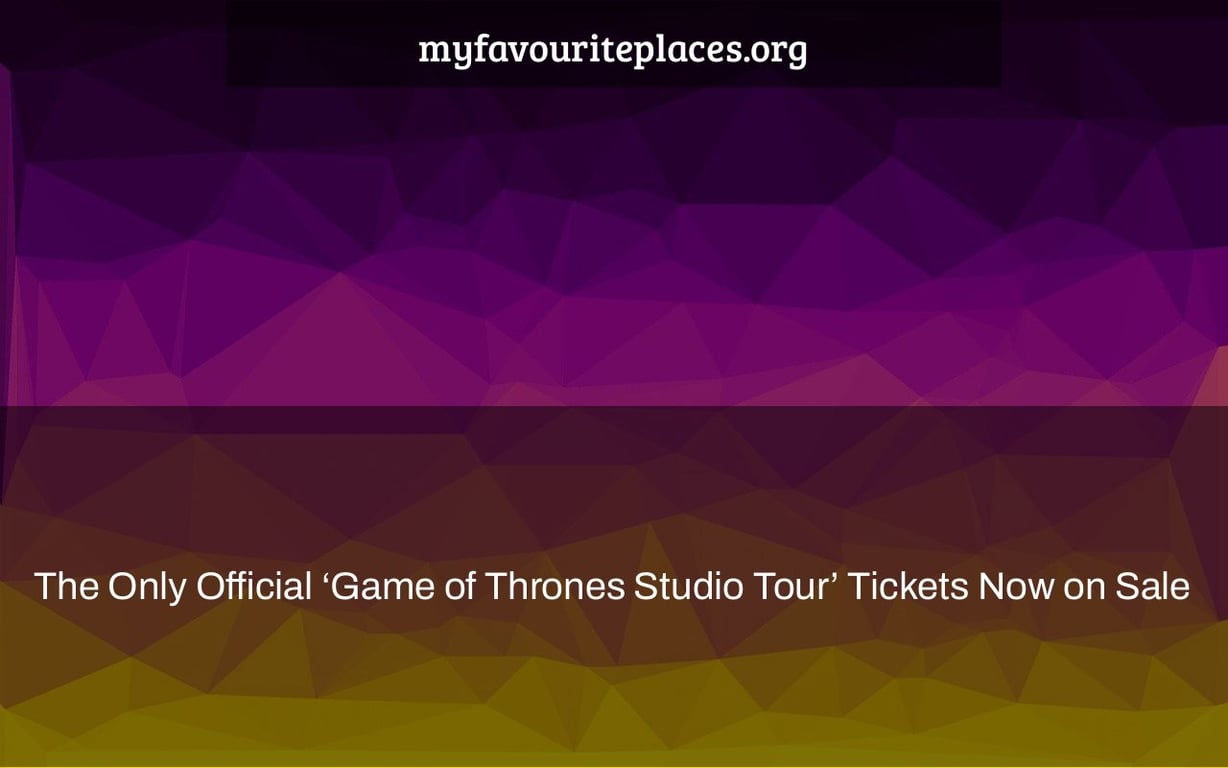 The highly anticipated 'Game of Thrones Studio Tour,' developed by Warner Bros. Themed Entertainment and Linen Mill Studios, is now on sale. The collaboration announced yesterday that this once-in-a-lifetime event will open to the public for the first time on February 4, 2022.
The Game of Thrones Studio Tour, the first official studio tour associated with HBO's immensely popular television series, will give fans insider access to one of the series' original filming locations, Linen Mill Studios in Banbridge, Northern Ireland, which has been "off-limits" as a closed set for many years.
ADVERTISING
What's Hot Right Now
Visitors will be taken to the heart of Westeros as they see a variety of unique sets, set pieces, props, real costumes, and other behind-the-scenes items. The brand-new attraction will help bring the Seven Kingdoms to life for fans like never before, from King's Landing to Winterfell, Dragonstone, The Wall, and beyond.
The 110,000-square-foot immersive experience will transport visitors to some of the show's most iconic locations, including the Great Hall at Winterfell, where Jon Snow was proclaimed "King in the North," Daenerys Targaryen's formidable Castle Dragonstone, complete with her throne and the Chamber of the Painted Table, where she and her supporters were frequently seen strategizing, and the Great Hall at Winterfell, where Jon Snow was proclaimed "King in the North."
This never-before-seen collection of spectacular artifacts, massive weapons, and intricate visual effects exposés hint at the series' true colossal size, and delves into many of the specific talents and workmanship that went into creating a big, convincing fantasy world.
"We're tremendously delighted to be opening the doors to the first-ever Game of Thrones Studio Tour at Linen Mill Studios," said Peter van Roden, Senior Vice President of Warner Bros. Themed Entertainment. Knowing you're standing in the same area as some of the series' most iconic scenes is a great sensation, and we believe fans of the franchise will feel the same way when they witness the rich detail in the sets, costumes, and props up up and personal."
"We are happy to reveal the 4th February 2022 opening date of Game of Thrones Studio Tour at Linen Mill Studios and to formally commence worldwide ticket sales," said Andrew Webb and David Browne, Executive Directors of Linen Mill Studios. This extraordinary and one-of-a-kind experience will bring the production of the show to life like never before, and we are looking forward to welcome fans and tourists from near and far as we open the Studio Tour doors and begin a new chapter in the Game of Thrones saga here in Northern Ireland. After many years as a closed and 'off limits' film studio, fans from all around the globe may now go inside the Seven Kingdoms and embark on their own personal adventure across Westeros at Linen Mill Studios."
Seventy-five percent of the Game of Thrones sequences shot in Northern Ireland took place at Linen Mill Studios, with the rest taking place in some of the country's most spectacular and dramatic outdoor locales, including expansive vistas, towering mountains, and rugged coasts.
Visit gameofthronesstudiotour.com for additional details.
Watch This Video-